David Nieper Academy in Alfreton has been doing their bit to help support and protect local healthcare workers in the battle with Covid-19.
The Academy's design and technology team has put their skills to excellent use by designing and producing face visors for staff working at 5 care homes across Derbyshire.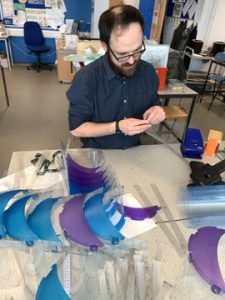 Academy teachers James Turner and Emily Thorpe, as well as technician Alastair Benton have made almost 100 masks to date, using their own technical know-how and the school's resources to make the visors.
Emily Thorpe, Head of Technology at David Nieper Academy explains the process:
"The visors are made-up from five separate parts. Four Polypropylene parts are cut on a laser cutter. The intricate detail in the design means it provides healthcare workers with a 'cap' and an adjustable strap so they are both comfortable and protected.
Thin PVC sheets are cut to approximately A4 size to make the face shield, these are hole punched and attached to the front and cap.
A production line was set up once all the parts had been cut, which maximised the numbers we could assemble in a day, while still socially distancing. Now that the process has all been refined, we hope to increase out output each week while there is still a demand."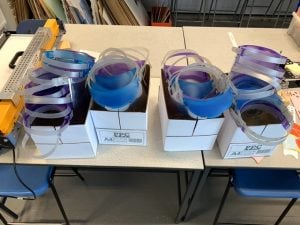 Once produced, the team batch visors in boxes of 10s to share among care homes including; The Meadows Care Home in Alfreton, Longmoor Lodge Care Home in Long Eaton, Woodhall Park Nursing Home in Risley, Sandiacre Court Care Centre in Sandiacre and Wrenhall Nursing Home in Selston.
Dr Kathryn Hobbs, Headteacher at David Nieper Academy commented:
"We are delighted to be able use the resources and skills within the Academy to help our local community and support our healthcare workers.
This is a real community effort – local schools and organisations have rallied round and have been working together to share design ideas and CAD files to get things moving as quickly as possible.
We know that our visors and donations of goggles and other equipment has been well received put to good use both in both care homes and with district nursing teams across the county."
-ENDS-