Kian Pearson, a Year 8 student from the David Nieper Academy in Alfreton is attempting to set a new record and become the youngest person in the UK to do the John O'Groats to Land's End (JOGLE) cycle in less than 20 days.
The 998 mile journey stretching between Great Britain's extremities in the south east and north west takes most adult cyclists between 10 -14 days, Kian who will be just 12 when he does the marathon cycle plans to complete the journey in 14 days with his dad and uncle this July, in a bid to raise £10,000 sponsorship money for Dementia UK.
Kian is enduring an intensive fitness regime in preparation for his cycle ride and is training at Demon Gym UK in Somercotes 6 days a week, as well as swimming regularly and doing practise rides from his home to Skegness. Kian's grandad recently passed away following a difficult battle with dementia, prompting Kian to raise money to help other people with the illness.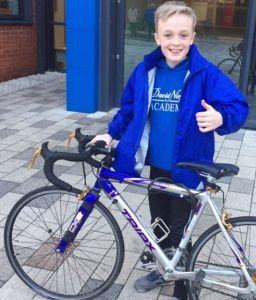 Kian's Dad, Ian Pearson commented:
"Kian has been effected by what happened to his Grandad and is 100 percent committed to completing this cycle ride in his memory, we are really proud of the effort he is putting into his training, diet and fundraising activities. We urgently need more sponsors to get involved and help Kian reach his target."
Dr Kathryn Hobbs, Headteacher at the David Nieper Academy commented:
"This is a huge physical and mental challenge for someone of Kian's age – he is incredibly courageous and totally focused on his goal. It is rare for someone so young to take on such an ambitious challenge, so it would be fantastic if the local community and businesses could get involved and visit Kian's fundraising page."
Kian said:
"I saw my Grandad when he was poorly and it was awful – I just want to help other people who have this disease."
Kian's journey will start on 22 July this year from Scotland, to support his fundraising campaign visit http://kianjoglebikeride.co.uk/
Kian's Itinerary
Day 1 John O'Groats – The Crask (82 miles)
Day 2 The Crask – Inverness (66 miles)
Day 3 Inverness – Glencoe (83 miles)
Day 4 Glencoe – Loch Lomond (66 miles)
Day 5 Loch Lomond – Moffat (83 miles)
Day 6 Moffat – Keswick (72 miles)
Day 7 Keswick – Stainburn (75 miles)
Day 8 Stainburn – Runcorn (64 miles)
Day 9 Runcorn – Clun (80 miles)
Day 10 Clun – Monmouth (65 miles)
Day 11 Monmouth – Glastonbury (64 miles)
Day 12 Glastonbury – Moretonhampstead (60 miles)
Day 13 Moretonhampstead – Fowley (64 miles)
Day 14 Fowley – Land's End (64 miles)
Day 15 Home!
For further press information contact [email protected]
Tel: 07904 257687