Derbyshire based fashion firm – David Nieper Ltd, was today presented with the prestigious Queen's Award for Enterprise and Sustainable Development, by HM Lord-Lieutenant Mrs. Elizabeth Fothergill CBE
The family business sustainably designs and manufactures high-end women's clothing. All its factories have solar power and zero waste to landfill, its fashion is made predominately in natural fibers and all 300 staff are local. The firm is the only Derbyshire business to have ever been presented with the Sustainable Development Award.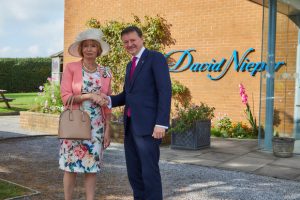 Managing Director, Christopher Nieper OBE commented:
"A Queen's Award is the highest recognition a British company can receive. Sustainability is at the heart of everything we do and we are hugely honoured to be recognized as the only Derbyshire business with an accolade in this category.
We would like to the thank Queen's Award for putting environmental sustainability on the national agenda for business, it has never been more important!
We are facing catastrophic climate change and unfortunately the fashion industry is a major contributor to the environmental crisis and is responsible for 1.2 billion tonnes of carbon and between 5-8% of global emissions every year.[1]
Today is the start of London Fashion Week, yet only a fraction of British designed fashion is actually made in Britain. UK fashion manufacturing only accounts for just 3% of British fashion and making in Britain nearly halves emissions from making offshore.
Sustainable fashion needs sustainable manufacturing at its heart, and this can't occur while the fashion industry does nothing to reduce carbon in clothes or take fossil fuels out of the supply chain – it is time to take carbon off the catwalk.
Manufacturing in Britain makes business accountable and allows control over each step of the production process. It also creates much-needed British jobs.
Greta is right – we are the custodians of our planet for future generations.
We can manufacture sustainably in this country and it makes commercial sense to do so."
-ENDS-
For further information contact
David Nieper Press Office
07904 257687
[1] https://www.stand.earth/markets-vs-climate/fossil-free-fashion