David Nieper in Derbyshire has become the first ever British fashion manufacturer to break into Britain's prestigious 'Best 100 Companies to Work For' list published for 2018 by The Sunday Times.
Decades of manufacturing overseas has decimated the UK fashion manufacturing industry, which has shrunk by over 90% percent since the seventies. So for David Nieper, a family run fashion manufacturing firm this recognition is a truly remarkable achievement.
The independent and confidential survey which was conducted with David Nieper staff had one resounding message… 'It's great to work in British fashion!' The company scored highly in the category of looking after staff wellbeing, with a consistently low staff turnover and 50% of the company holding long service awards of 10+ years.
In comparison to other businesses in the category, the company also scored very highly for 'giving something back, indeed supporting staff and the local community is at the heart of everything the company does.
The David Nieper approach is both altruistic and far reaching, not only creating jobs for local people, but also prioritising the educational welfare of local children. Within the last two years David Nieper has taken the unprecedented step of sponsoring the local secondary school to help raise the level of education and skills in the area.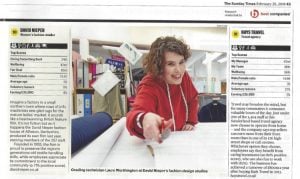 Results from the survey reflected that staff are proud to work for the organisation and believe that it is run on sound moral principles and personal growth is encouraged. The survey also revealed that David Nieper staff are excited about their future prospects working for the company.
David Nieper Managing Director, Christopher Nieper commented:
"Our place in the Best 100 Companies list is credit to our wonderful staff. We are one of the few fashion houses that have never taken production overseas and have always prioritised local people and local jobs, so we are incredibly proud to be the first ever British fashion manufacturer to be included.
I whole heartedly agree with our staff that this is a very exciting time to work in British fashion and am excited about the future. Inclusion in the list goes a long way to marking the revival of the British fashion manufacturing and demonstrating that British fashion is a great place to work and build a career."
Over the last 12 months, the David Nieper fashion house has had the most successful year in its 56 year history. The company's performance has been attributed to staff performance and an increased consumer appetite for British Made goods.
The Sunday Times Best Companies programme started in 2001 and is based solely on the results of staff surveys. A broad cross section of the British workforce has been polled, with over a quarter of a million staff giving their opinions about their work environment and employers.
-ENDS-
For more media information contact: David Nieper Press Office
Lauraine Jordan, [email protected]
Tel: 07904 257687