Derbyshire fashion house David Nieper has this season launched its first collection dedicated exclusively to luxury knitwear.
The company has been making knitwear in Derbyshire for over 6 years as part of their luxury day wear range. Growing popularity and demand for British knitwear has prompted them to create a brand new exclusive knitwear collection, offering more classic and contemporary styles and in a wider selection of colours – from soft neutrals to vibrant colour blocks.
In 2011, HRH Princess Anne officially switched on the first knitwear machines in Derbyshire, putting David Nieper at the forefront of the revival of the British knitwear industry. The launch of David Nieper's knitwear range coincided with the fashion industry's move away from mass produced, synthetic products in favour of authentic knitwear in natural fibres.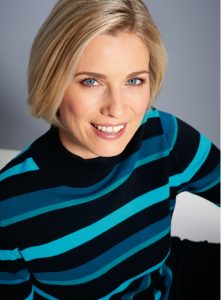 This, combined with the famous 'Sheep pasture in Saville Row' campaign by UK Campaign for Wool, a movement championing and extolling the benefits of natural yarns, has significantly boosted the UK's knitwear industry this decade, and as a designer making authentic knitwear from first sketch to final stitch in the UK, David Nieper has never looked back.
The current knitwear collection features over 70 different styles in sizes 10-24, all crafted by a team of 12 specialists. Luxury Lambswool, Merino and Cashmere sourced from sustainable stocks are the staple yarns of the knitwear collection, which are skillfully spun into a range of contemporary designs and classic styles. Where possible the design team works with local suppliers including our Lambswool and Geelongora yarns which are sourced from Yorkshire.
Elizabeth Edwards, Head of Design at David Nieper commented:
"There is something wonderfully comforting about pulling on your favourite sweater. Wool is very versatile and can equally create a garment that is chic and stylish, or relaxed and cosy.
Merino is fantastic for creating a sharp clean look and works brilliantly with patterned designs such as our Intarsia sweater, knitted in bold colour blocks which fit seamlessly together like a jigsaw. Merino yarns are also beautifully warm and layer well under coats and gilets.
For those who like the finer things in life, Cashmere is feminine, soft and fluffy – everything a jumper should be. Lambswool is both timeless and versatile and the perfect knitwear option for the transitional months between autumn and winter.
Although fashion is fickle and trends come and go, authentic knitwear in natural fibres is timeless. Clothing made with natural fibres has a longer lifespan, with resistance to pilling and can stay in the wardrobe much longer than synthetic 'fast fashion' counterparts."
In the Cashmere line, David Nieper's range this season includes a contemporary style knit with ribbed collar, hem and cuff in Amethyst, Aqua or Cyclamen from £195, and a classic scoop neck style also available in Amethyst, Aqua or Cyclamen priced at £169 in sizes 10-24.
The Merino range includes a classic turtleneck in Raspberry, Winter White or Black priced from £95 in sizes 10-24, and a new tie-neck design in Cerise, Kingfisher and Navy from £115. The Merino range also includes a striking grey and coral stripe turtle neck from £99 and the Intarsia sweater in bold Navy and Peony at £115.
In pure new Lambswool, David Nieper's gently fitted cable roll neck is one of the company's best- selling designs and is now available in Raindrop Blue, Orchard Green and Peony priced at £95.
For further information contact David Nieper, Customer Service on 01773 836000 or visit www.davidnieper.co.uk
-ENDS-
For further media information and photography contact
07904 257687