A glitterati of young fashion talent packed Derby Theatre this week to showcase the work of the University of Derby fashion and textile design students, with a stunning parade of skillfully tailored styles in a beautiful display of colour and fabric.
The event culminated in prize giving, firstly for second year fashion and textile design students who had taken part in the prestigious David Nieper 2018 Fashion BA and Textile BA Scholarship.
The students had been briefed to take inspiration from the work of American underground graffiti artist Jean-Michel Basquiat, and design a capsule collection of four garments – one each for nightwear, evening wear, day wear and travel wear designed specifically for the elegant and discerning older woman.
In the fashion design category the standards were extremely high but with one clear winner – Emma Holmes was awarded first prize and a cheque for £500. In the textiles design category judges awarded three students for their exceptional work. Toni Hibberd was awarded first prize and was overall scholarship winner receiving a cheque for £1000, fellow students Carrie Murphy and Sarah Cobb were presented with runner-up awards and prize money.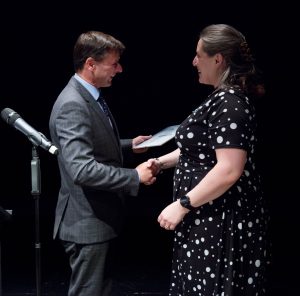 Christopher Nieper, Managing Director of David Nieper commented:
"Creativity and fashion ingenuity is alive and well in Derbyshire! It is also fantastic to have several mature students amongst our winners, which shows it's never too late to follow your dream career. This was a fantastic show and superb effort from all the students who participated.
We are also delighted to see our 2016 David Nieper Scholarship winner show her final year collection this evening, and win a host of awards including Best Portfolio and Best Collection – congratulations to Freya Whittaker, who has a very bright future ahead of her."
Textile design student and overall winner of the David Nieper Scholarship 2018, Toni Hibberd commented:
"I am absolutely thrilled to win, it was a challenging brief but I enjoyed every moment, we had to gel the outlandish art of Basquiat with creating an elegant and stylish collection that would appeal to David Nieper customers.
As a mature student it has been a big gamble for me to give up work, follow my passion and go back to school to learn textile design – but it has definitely paid off. I'm doing something I love and winning this scholarship has really boosted my confidence in making my dream job a reality."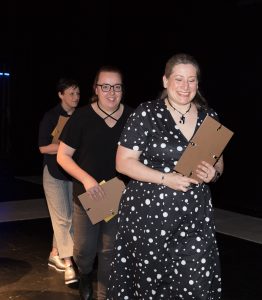 Colin Thompson, Programme Leader for BA (Hons) Fashion at the University of Derby, said:
"The quality of work produced by our fashion and textile design students goes from strength to strength every year. Working to the brief of a professional fashion house such as David Nieper gives our students great real life work experience.
We were very impressed by the vision of the students who have been able to create really outstanding designs which are both incredibly creative and commercially sound. Well done to all of our winners."
-ENDS-
For further information on David Nieper visit www.davidnieper.co.uk
Contact David Nieper Press Office
07904 257687