A survey conducted by David Nieper Ltd, a leading British fashion house has revealed that David Nieper customers wear their clothes 5 times longer than the national average* (2.2 years).
David Nieper has been designing and making fashion, from first sketch to final stitch for almost 60 years and has always been committed to the sustainable production of fashion. As part of their drive to ensure sustainability at each stage of the garment lifecycle, the David Nieper customer services team carried out a survey to gauge how long customers were wearing their clothes.
The fashion and textiles industry is increasingly highlighted in the press as the world's most polluting industry. According to the recent House of Commons Environmental Audit Committee's 'Fixing Fashion' report* the fashion and textiles industry produces an estimated 1.2 billion tonnes of CO2 equivalent per year – more than international flights and the maritime trade combined.
Addressing the spiralling environmental problem of fast fashion, the David Nieper team believes that extending the longevity of a garment must start in the design studio, where changes in design practise can have a significant impact on how long a garment remains wearable.
This means it is entirely possible for customers to continue to enjoy shopping for clothes, without costing the earth.
83 percent of those polled in the survey reported wearing clothes at least 30 times, 16 percent wear garments between 10-30 times and only one percent wear their clothes less than ten times. 12% of David Nieper customers polled said they have kept garments for over 25 years and returned them for mending!
In this climate of overproduction and quite literal throwaway fashion; it is evident that change needs to happen on a major scale. However, David Nieper advocates that we can all play our part in bringing about change, and that being a follower of fashion and a supporter of our planet need not be mutually exclusive.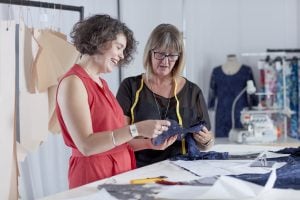 Christopher Nieper, Managing Director of David Nieper Ltd commented:
"For consumers, the easiest way to support sustainable fashion is simply to buy clothes that last and extend a garment's lifecycle by buying well in the first place, choosing quality over quantity.
There is a massive problem of overproduction and a decline in use with millions of clothes ending up in landfill every year. As both a designer and manufacturer, safeguarding our environment to ensure a sustainable future is of paramount importance – both to sustain our family business and the livelihoods of our employees and local community.
We only source our fabrics from accredited suppliers. We are re-shoring our fabric supply chain and in our factories we have always operated a 'just in time' manufacturing system, which means only making the garment when we have received the order, therefore eliminating waste by creating no overproduction or excess stock.
From first sketch to final stitch we design to last. We want our customers to enjoy and value their clothes and have favourite pieces they wear again and again."
Helping to promote the longevity of each garment, David Nieper uses high quality sustainable materials which are durable, keep their shape and don't fade or shrink.
The design team focuses on classic styles that are comfortable, fit well and don't date. They also build in features which accommodate changes in size and body shape, such as elastic waistbands, adjustable fastenings and using materials with more 'give' – all these elements help prolong the lifecycle of a piece of clothing.
Christopher continued:
"This is not the first time our business has bucked the trend in the fashion industry and found ourselves swimming against the tide. Encouraging a measured and considered approach to buying, and promoting a longer lifecycle of each individual garment will both keep the industry buoyant and preserve the earth's precious resources.
Our family business has been making fine fashion in Derbyshire for almost 60 years; the only way we can be here in another 60 is to ensure we are sustainable in every sense. Our customer services survey has illustrated that a 'design to last' strategy works for both the customer and the business."
-ENDS –
For further media information contact:
07904 257687
https://publications.parliament.uk/pa/cm201719/cmselect/cmenvaud/1952/report-summary.html