Sustainability and ethical sourcing were major style influences at this year's David Nieper undergraduate design awards, run with the University of Derby.
In the eighth year of sponsorship, judges were won over by students' ingenuity, technical ability and the careful consideration given to creating fashion that won't cost the earth.
David Nieper has always been committed to the sustainable production of fashion and is keen to impart these skills to a new generation of designers. Year 2 fashion and textile students were tasked to design a collection for the elegant older woman, with sound environmental credentials taking inspiration from the world of art.
David Nieper challenged students to think hard about sustainability, making them review their supply chain and discover where and how their materials were made. Students went to great lengths to investigate the source of materials, to help eliminate waste several of them choose to design using fabrics and yarns from surplus stocks that would otherwise have gone to landfill.
Standards were extremely high but with one clear winner –fashion student, Olivia Rose Noble was awarded first prize and a cheque for £1000. Runners up included Lydia Fisher and Grace Stevens both textiles design students.
Olivia's winning collection included stylish denim wear. Her fabrics originated from renewable wood sources, which require less water than cotton for growing. Olivia's denim fabric was manufactured using an environmentally responsible production process, creating garments that are both compostable and biodegradable.
Judges were wowed by student's innovative approach to creating sustainable collections using new and inventive fabrics such as Pinatex from pineapple leaf fiber, ground coffee fiber and bamboo.
Students had also included detailed research as part of their portfolio's, taking into consideration critical environmental issues – such as the impact of global warming on coral reef eco-systems, the production of cotton and the importance of being zero landfill.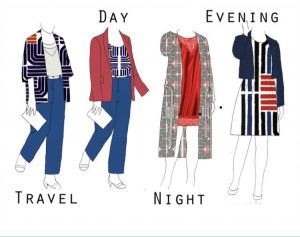 Christopher Nieper, Managing Director David Nieper Ltd commented:
"The 2019 Fashion Show was an inspiration – a fantastic display of creativity and talent, what's more these young designers are putting the planet first and not subscribing to fast fashion.
The fashion industry is in crisis – it is no longer enough to design beautiful clothes, we must treasure the earth's resources and and safeguard them for future generations. These young designers demonstrated a real passion for the environment and showed that they understood the impact fast fashion and offered practical well thought-out solutions."
Colin Thompson, Programme Leader for BA (Hons) Fashion at the University of Derby, said:
"The quality of work produced by our fashion and textile design students goes from strength to strength every year. This year we were particularly impressed with the way students are responding to emerging developments in society including the reaction to fast fashion – they really embraced this this aspect of the David Nieper brief.
-ENDS-
For further information on David Nieper visit www.davidnieper.co.uk
Contact David Nieper Press Office
07904 257687