A host of extra-terrestrial and intergalactic visitors landed in the David Nieper fashion house in Alfreton this week, along with almost one hundred local primary school children taking part in the annual Fashion for Free design competition.
Children had been encouraged to let their imaginations take a journey into deep space and create some space-age fashion.
The 'Out of this world' theme inspired some fantastic and outlandish results, children were asked to make a textile design, spend no money and up-cycle fabrics, clothes and even old curtains and sheets from around their homes and schools.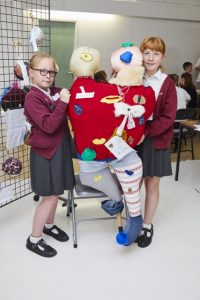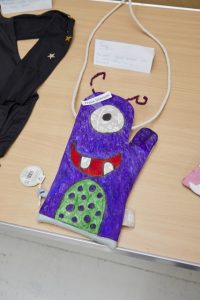 Five schools took part including; Leys Junior School, Mundy Church of England Junior School, Swanwick Primary School, Copthorne Community Infant School and Woodbridge School. Judges were impressed with both the children's creativity and the level of technical skill that went into making the alien form designs.
James Webb from Mundy Junior School won first prize in the 'Most Inventive Idea' category for his rocket man style cape in shimmery silver fabric, complete with twin turbine engines. Freya Searson, from Woodbridge Junior School came a very close second place with her Martian oven-glove handbag.
In the 'Most Well Made' design the prize went to Molly Hill from Swanwick Primary School, who fashioned an interplanetary, zodiac styled dress from blue velvet and sequins. Second prize in this category went to Tiana Fern from Woodbridge Junior School for her futuristic, space themed dress.
The 'Most Creative Design' award went to joint winners Tilly Jaggs and Erin Smithurst from Leys Junior School for their Jedi Princess styled jump suit complete with tiara, and Copthorne Infant School won first place for 'Best Group Project' for their solar system inspired mobile.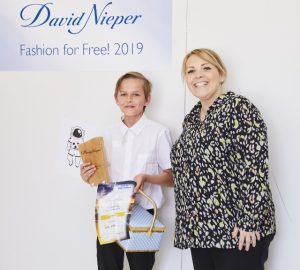 Emma Merchant, Assistant Headteacher from the David Nieper Academy presented the children's prizes to a drum roll of applause and commented:
"What amazing design talent we have in Derbyshire! The space theme has captured the children's imagination and produced some really original and cosmic ideas! All the children have worked really hard and we have had a difficult job choosing the winners. Well done to everyone that took part!"
Christopher Nieper, Managing Director David Nieper commented: "It is so important that children grow-up using their imagination. Thinking outside the box is the creative force that inspires design and innovation.
Fashion students today need to be both creative and resourceful which is why we insist on designs that cost no money. Recycling and reusing helps minimize waste and protect the earth's natural resources and we are keen to instill this awareness of sustainability into children at an early age."
-ENDS-
For further information contact:
David Nieper Press Office
07904257687