Three students from The University of Derby have had their talent recognised and been awarded with a £2000 scholarship, by leading British fashion designer David Nieper.
The second year fashion and textiles students had taken part in the prestigious annual David Nieper Fashion BA and Textile BA Scholarship, part of the company's on-going commitment to supporting education and driving opportunity in the region.
The awards programme, which was run slightly differently this year due to the national lockdown, was met with no less enthusiasm by students who created a stunning selection of fabrics and fashion designs.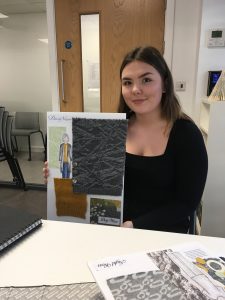 The overall winning student was Georgia Alligan, a textile student who won £1000 for her intricate and wearable knitwear design. Fashion student Caughley Harris was awarded top prize in the fashion category for her Nostalgic Bloomcollection winning £500, and Abigail Wales secured first place for her contemporary textile design for everyday wear also winning £500.
The students had been briefed to take inspiration from artists and designers of their choice to create a capsule collection of four garments – one each for nightwear, evening wear, day wear and travel wear designed specifically for the elegant and discerning older woman.
Christopher Nieper, CEO fashion firm David Nieper Ltd commented:
"It is so important to support these young people in their ambitions. There is a wealth of design talent in Derbyshire and each year the standards get higher – our judging panel faced a difficult task of making a shortlist of finalists.
We were really impressed by the winners' technical abilities and creative flair. We also look for the attention students have paid to ensuring their designs are sustainable and made from ethically sourced materials. I would like to congratulate all of our talented winners."
Kay Bolderson, Programme Leader Textile Design at the University of Derby, said:
"Working to the brief of a professional fashion house such as David Nieper gives our students great real life work experience.
We were very impressed by the vision of the students who have been able to create really outstanding designs, which are both incredibly creative and commercially sound. Well done to all of our winners."
David Nieper works with education at every level to help raise standards and enhance employability of young people across the region.
The company strives to engage with young people at each stage of their education journey; from primary school design competitions, to secondary school work experience programmes, university scholarships for undergraduates, vocational training within the company's own onsite sewing school and taking the lead in developing industry apprenticeships.
-ENDS-
For media information contact:
 David Nieper Press Office
 07904 257687