David Nieper, international fashion brand based in Derbyshire is bringing a much needed jobs and skills boost to the region with a campaign to create 30 new jobs in fashion production, and rollout an extended fashion and textiles apprenticeship programme this year.
This year, the company has a renewed focus on creating sustainable fashion and is recruiting and training more dressmakers to meet consumer demand.  However, as the country slowly emerges from the grips of the pandemic and with social distancing measures still in place, training programmes have also had to change and adapt to comply with restrictions.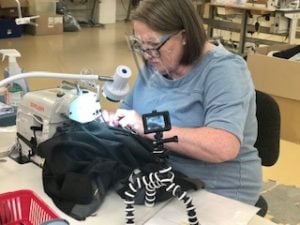 Christopher Nieper OBE, CEO David Nieper Ltd commented:
"A sewing machine is no longer enough to train a machinist, today we also need a tablet and GoPro!
I have great admiration for our fantastic team of supervisors, who with over 20 years experience are really getting to grips with new technology to ensure their skills are passed onto the next generation of David Nieper dressmakers."
The training cycle works on a 'plan–do –review' method using videos clips. Cameras are now positioned within the sewing rooms to capture the experienced machinist's techniques on film, the footage is then be viewed on a tablet, by the trainee to demonstrate best practice.
Christopher continued:
"Job and skills have become a casualty from the pandemic, however with some ingenuity these obstacles can be overcome to allow business to move forward.
As a nation we are seeing mass unemployment with most jobs hugely oversubscribed, yet in textiles recruiting skilled people remains our single biggest problem.  In recent decades the textiles industry in the UK has shrunk beyond recognition, resulting in fewer skilled dressmakers.
However, increasing pressure on government and the industry to support sustainable fashion in the UK, means that British fashion production is now a growth industry, and increasingly offers a wealth of career options."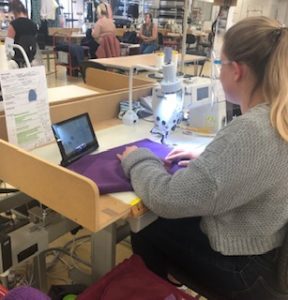 David Nieper is looking for dressmakers of all abilities – from experienced seamstresses, to complete beginners, hobby dressmakers and those who wish to totally retrain.
All new-starts will be given on the job training at the David Nieper Sewing Academy to assess abilities and to learn new skills, before they graduate into the sewing rooms.
In addition to the recruitment drive, the company is also preparing to rollout an extended apprenticeship programme.  Last year David Nieper became an officially recognized apprenticeship-training centre, monitored by Ofsted.
With the first apprentice due to complete as Level 2 Sewing Machinist in 2021, the company is extending the apprenticeship programme to include other textiles roles at both Level 2 and Level 3 including; sewing machinist, garment maker, material technologist, material cutters and knitwear technician.
Christopher added: "Derbyshire was once the British heartland of the textiles and our family business is striving to bring this back – we want to create more sustainable jobs, employ local people and make fashion that does not harm the environment.
We believe small towns like Alfreton are bursting with potential, and we are delighted to be able to offer the opportunity for local people to learn a skill and create gainful employment in the area."
David Nieper will celebrate 60 years in business in 2021, and is one of the largest employers in Alfreton.
For further information on jobs please visit David Nieper careers centre
https://jobs.davidnieper.co.uk
-ENDS-
For further media information contact
David Nieper Press Office
07904257687