Tony Walker CBE DL, former Deputy Managing Director of Toyota and High Sheriff of Derbyshire is to join Derbyshire fashion and textiles firm David Nieper Ltd, as Non-Executive Director as the company enters its 60th year in business.
Tony's avid interest manufacturing whilst supporting education and environmental initiates has struck a chord with the textiles firm.
Tony brings a wealth of business acumen and 40+ years British and European manufacturing experience to the position. He has played a key role at national level in automotive and manufacturing affairs representing the sector to government. He was awarded a CBE in the New Year's Honours List 2018 for services to the motor industry.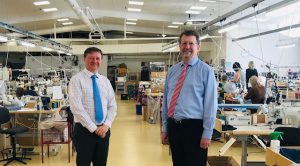 Regionally, as the Prince's Ambassador for Responsible Business for East Midlands, he has been a champion of local business, promoting responsible business practice and supported many educational and environmental initiatives.
David Nieper Ltd. sponsors education at all levels including its local secondary school in its hometown of Alfreton.  The company is also a national leader in environmental best practice, having won a the Queen's Award for Sustainable Development and been awarded British Manufacturer of the Year 2020 by Make UK.
Tony commented:   "I am delighted to join David Nieper as a non-executive board member with a particular involvement in manufacturing. David Nieper is the best sort of company – showing commitment to manufacturing in the UK, to their employees, their community and their customers. They take a long-term approach as demonstrated by their significant investment in new manufacturing facilities and to training and apprenticeships.
I hope to add value to the board, ably led by Christopher, as they build even greater competitiveness to ensure this family business continues to contribute to Alfreton and Derbyshire for many years to come"
Christopher Nieper, CEO David Nieper Ltd commented:
"This is a really exciting time for Tony to join us. This year our company celebrates 60 years in business, manufacturing sustainably in Britain, supporting our local community through developing education and skills, and promoting environmental best practice in fashion and textiles.
I am delighted to welcome Tony and know we'll all enjoy working with him and benefitting from his considerable manufacturing experience.   I think he might enjoy the world of fashion!"
ENDS
For further information contact:
David Nieper Press Office
 07904 257687