Christmas has come early at David Nieper in Alfreton, as staff have been busy collecting goodies, packing and gift wrapping over 80 Christmas boxes to donate to the Samaritan's Purse Operation Christmas Child appeal.
The Samaritan's Purse is an international relief and development organisation, every year they run an appeal to help brighten Christmas time for the children most in need around the world, by delivering shoe boxes full of toys and other gifts.
This is the 3rd year that David Nieper has donated to the charity through the staff collection of toys, school supplies, toiletries, confectionary and cards, and also funding the transport of the shoe boxes to children all around the world in Africa, Eastern Europe, Asia and closer to home.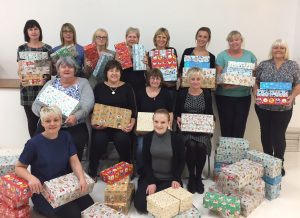 David Nieper Managing Director, Christopher Nieper commented:
"A massive well done and thank you everyone that took part, the show box appeal is very close to our hearts and reflects the importance of giving at Christmas. It is fun to create the boxes and we know they have a huge impact on the lives of the children that receive them."
-ENDS-
For further media information contact:
David Nieper Press Office
[email protected] or call 07904 257687